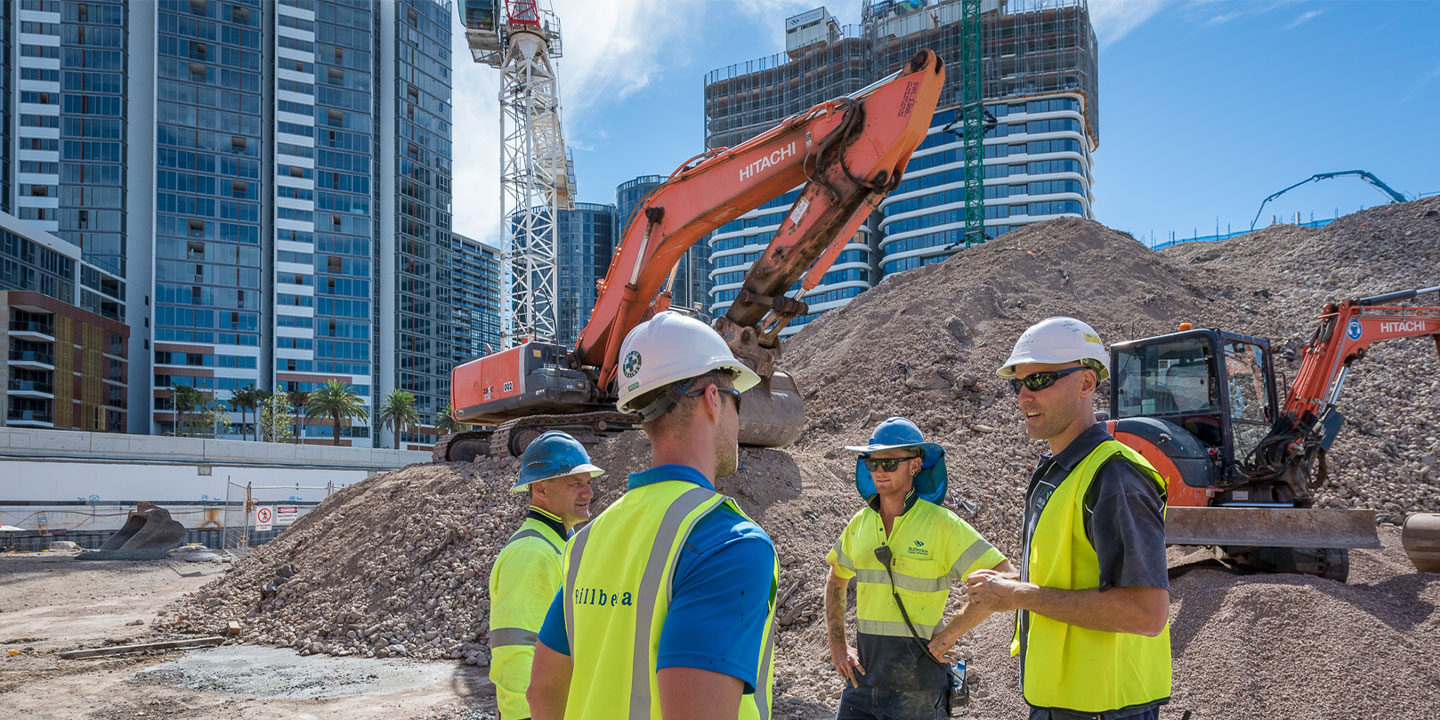 Examples of Billbergia Constructions' current and recent undertakings follow:
Construction of 256 apartments at Village Quay in Rhodes.
Construction of Waterpoint at Meadowbank. What was once a tired industrial area now evidences a sustainable residential community with more than 850 apartments, parks, a community centre, ferry terminal and approximately 10,000m2 of retail space.
Construction of 286 apartments as Stage 1 of a 9 Stage, 3,000 apartment, development at Wentworth Point Marinas.
The second Stage of Wentworth Point Marinas, comprising 256 apartments, is currently being constructed and Stage 3 (approximately 330 apartments) is due to commence construction in 2014.
The first Stage of VQ Harbour Views at Rhodes, comprising 326 apartments is currently being constructed and Stage 2, comprising a further 160 apartments, is due to commence construction in September 2013.
30 years of Construction Expertise
The Billbergia Group offers a unique and successful construction management capability to in-house and partnered developments. As a contemplated risk management strategy, Billbergia Constructions do not undertake construction for third parties. Billbergia originally specialised in the delivery sub-division and infrastructure installation projects, including water, gas, storm water and sewerage reticulation. Over the past 25 years, Billbergia has transgressed into constructing high-density community developments and have completed over 4,000 dwellings in the Sydney region. Along the way, Billbergia Constructions has entrenched trusted relationships with a loyal group of subcontractors has and built a team of experienced construction management personnel that continue with current projects. The Construction team includes architects, engineers, surveyors, project managers and construction management professionals. The team specializes in:
Design Management
Cost Planning / Estimating
Construction Planning and programming
Project Management
Construction Management
Remedial Works
Water Services
Plant & Equipment Hire (see more: Billbergia owns and operates a wide range of plant & machinery available for hire including Backhoes, Bobcats, Bulldozers, Cranes, Graders, Loaders, Rollers, Telescopic Handlers, Tilt Trays, Trencher Diggers, Track Excavators, Trucks & Trailers, Water Carts.)
The projects delivered by Billbergia Constructions evidence a low degree of variations and use of contingency funds. The construction contract pricing process that is applied to in-house and partnered projects has been developed over a number of joint venture relationships and ensures arms-length, market related pricing that is enhanced by attention to service, versatility throughout the construction process and attention to quality.
Civil Engineering History
Billbergia's civil engineering services have provided clients with access to a wide range of construction services and engineering expertise. These services have included: Sub-division works; Residential and Industrial Building; Water mains; Sewers; Roads and Footpaths; Highways and Bridges; Storm water drainage; Open channel and Retention basins; Local Traffic Management Devices; Retaining Structures; Slope Stabilisation. Briefs extend from major infrastructure developments to medium sized service projects. Major civil works completed include Marsden Street Parramatta, Coffs Harbour major water upgrade, Lismore sewerage and water upgrade, Blacktown Hospital, as well as involvement in the completion of civil works on the Eastern Distributor Project. Current projects being undertaken by the company include work on water/sewerage amplification infrastructure for Hunter Water at Maitland Balwarra.
Client Sectors
Retail Westfield Government Authorities Sydney Water; Dept of Public Works & Services; Dept of Defence Property Group; Drainage amplification works; SA Water Local Government Ryde Municipal Council; Baulkham Hills Shire Council; Warringah Shire Council; Bankstown City Council; Blacktown City Council; Gosford City Council; Wyong Shire Council. Aeronautic Barclay Mowlem; FAA Commercial Leighton Contractors; ABI Group & NCDC; L.Radivon & Lobb; Baulderstone Hornibrook; Kinhill Engineers; Macquarie Generation.
Work Practices
Industrial Relations
Over 25 years, Billbergia Constructions has built its business around a very loyal group of long standing employees and contractors who have reciprocally contributed to the group's success. Construction management have achieved this by taking an ethical position on all matters and being transparent throughout. Billbergia is proud of the good relationship it maintains with employees, contractors and consultants. Billbergia has an excellent track record and has never had an industrial dispute raised with the company, its employees or any associated companies.
Quality Assurance
Billbergia's prime objective is to produce a construction product of the highest quality for its clients. Management and staff are committed to the delivery of works and services that comply with quality requirements for both:
Internal projects where Billbergia is the developer and constructor and.
External projects where Billbergia acts as the principal contractor.
This commitment is backed by Billbergia's quality policy. The processes used to implement this policy include:
Adherence to a written Quality Management System, integrated with OHS and environmental management for each project.
Preparation of a Project Quality Plan for each job to implement policies and objectives.
The development of procedures and Inspection & Test Plans to make sure the Project Quality Plan is adhered to on a daily basis.
The assessment of all proposed subcontractors and suppliers on their ability to successfully meet quality requirements prior to engagement.
The designation of clear responsibilities for each manager and worker to ensure that the personnel undertaking the work are directly responsible for the quality outcomes.
Regular monitoring of Billbergia and subcontractor work to verify compliance with the Project Quality Plan.
The undertaking of regular site specific quality audits on all of our projects.
The use of performance indicators to measure quality management performance against our objectives and targets. Billbergia's Quality Management System is the assurance to its customers that they will:
Conduct business with due regard to contractual, legal and regulatory requirements
Provide services that consistently meets customers' needs and expectations.
The Billbergia Quality System has been certified since 1998 and can be modified to suit individual client's requirements. External audits of our Quality Assurance System are undertaken by DLIQ Certification Services, on a six monthly basis, to ensure that compliance with AS/NZS ISO 9001:2000 is maintained.
Occupational Health & Safety
Billbergia is committed to providing a work environment for personnel that is safe and without risk to health. The company considers the health and safety of employees, subcontractors and members of the public who may be affected by its construction activities, to be Billbergia's responsibility. Billbergia has set measurable Occupational Health & Safety (OHS) objectives and targets focused at eliminating work-related injury and illness. The processes we use to implement the policy include:
Adherence to a written OHS Management System, integrated with environmental and quality management for each project.
The development of integrated OHS Management Plans for each project to implement policies and objectives.
The development of procedures to ensure that OHS Management Plans are adhered to during day-to-day site operations.
The carrying out of detailed OHS Risk Assessments for each project taking into account legislative and regulatory requirements.
The documentation of project specific Safe Work Method Statements (SWMSs) to control identified risks.
Regular monitoring of Billbergia and subcontractor SWMSs to verify compliance and identify/address new risks.
The employment of a full time Safety Officer to manage OHS issues on each project.
The designation of clear OHS responsibilities for each manager and worker.
Regular consultation with employees/subcontractors to identify site hazards and enhance methods of tackling OHS issues.
The use of performance indicators to measure OHS management performance against our plans, benchmarks and targets.
Provision of appropriate information, education and training to improve understanding of OHS issues.
Billbergia in its role as Principal Contractor recognises that while ALL employees and subcontractors have an obligation to maintain safe work conditions, Billbergia has the ultimate and overriding responsibility for health and safety. The group thoroughly investigates any accidents, incidents and dangerous occurrences on its work sites and, where necessary, implements control measures to minimise the possibility of recurrence. The Billbergia OHS Management System has been certified since 1998 and meets the requirements of the NSW Government Occupational Health & Safety Management System Guidelines for AS/NZS 4801:2001. It can be modified to suit individual client requirements. DLIQ Certification Services carry out six monthly audits of our OHS Management System to ensure that compliance with AS/NZS 4801:2001 is maintained.