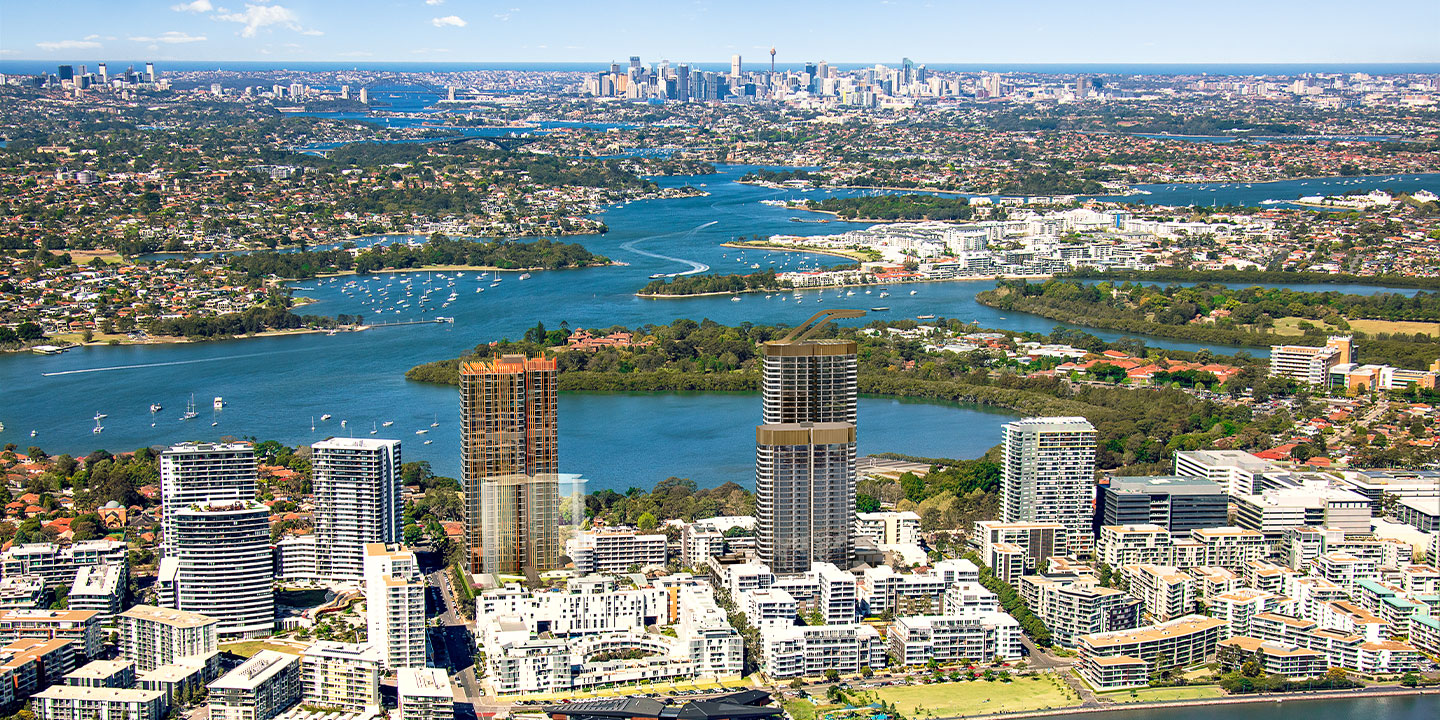 Project Snapshot
In the development pipeline, Billbergia has in excess of; 5,000 apartments, 16,000m² of retail space and 45,000m² of industrial / commercial space. Examples of pending, current and recent undertakings are as follows:
Development and construction of 256 apartments at Village Quays in Rhodes.
Development and construction of Waterpoint at Meadowbank. What was once a tired industrial area now evidences a sustainable residential community with more than 850 apartments, parks, a community centre, ferry terminal and approximately 10,000m2 of retail space.
Development and construction of 286 apartments as Stage 1 of a 9 Stage, 3,000 apartment, development at Wentworth Point Marinas; the first 3 stages of which are in a joint venture with AMP Capital related funds.
The second Stage of Wentworth Point Marinas, comprising 256 apartments, is currently being constructed and Stage 3 (approximately 330 apartments) is due to commence construction in 2014.
Billbergia owns the remaining 7 Stages of the development land at Wentworth Point Marinas, comprising a potential 2,300 apartments and mixed community uses.
The first Stage of VQ Harbour Views at Rhodes, comprising 326 apartments out of a total 743, is currently being constructed and Stage 2, comprising a further 160 apartments, is due to commence construction in September 2013
Following successful dewatering and remedial ground works, initial development of the 111+222 site in Brisbane CBD has commenced with the construction of a 980 car, eight level underground car park. Development management of the following stages, comprising an 88 storey mixed-use tower (5* hotel and up to 856 apartments) and a separate 35 storey commercial tower, has commenced.
Expert Team
Billbergia Development offers a unique corporate solution. The management of the entire development process can be provided by and controlled with the business unit, even down to the ongoing provision of maintenance and facilities management. In this way, the development expertise that commences the project nurtures the initial ideas through to completed designs all the way through to the delivery of the end product, and beyond. The Billbergia Development Management team exhibits a full, complementary set of commercial and project related property expertise, experience and management skills. These include:
Development feasibility analysis
Investment due diligence
Acquisition negotiation and bidding
Development and project management
Legal Counsel
Financial management and modeling
Planning management
Design and design management
Capital raising and partnership structuring
Project superintendent roles
Contract management and programming
Civil and structural engineering
Facilities management
The application of this skills set within the Billbergia Group as well as within joint venture partnerships has contributed to the success and longevity of the group as well as the successful outcome of many developments, in line with core group values, the motto 'Creating Communities' and its philosophies.
Joint Venture and Funding Partnerships
Billbergia regularly partners with reputable investment institutions, developers and private individuals or groups. Billbergia's land bank of key development properties, along with its financial strength, ability to assess and negotiate new acquisitions and to provide the core development, construction and marketing/sales management expertise is conducive to partnering arrangements that seek risk managed, professional and viable outcomes. Billbergia's approach to partnering is governed by the group's philosophies, including:
Integrity, ethics and transparency.
Applying the breadth and depth of its experience and competency in all areas of the development cycle to optimise returns and mitigate risks.
Generate successful outcomes with a view to continuing relationships.
Billbergia has a successful track record for all prior partnerships and has delivered results in accordance with its commitments. There is a transparent and adaptable management structure in place that allows all partners the choice to work with Billbergia as part of the development team or to remain as a passive partner receiving regular project reports. The Group has an unblemished track record in raising and returning significant project finance from Australian financial institutions in the order of $30m to $144m.