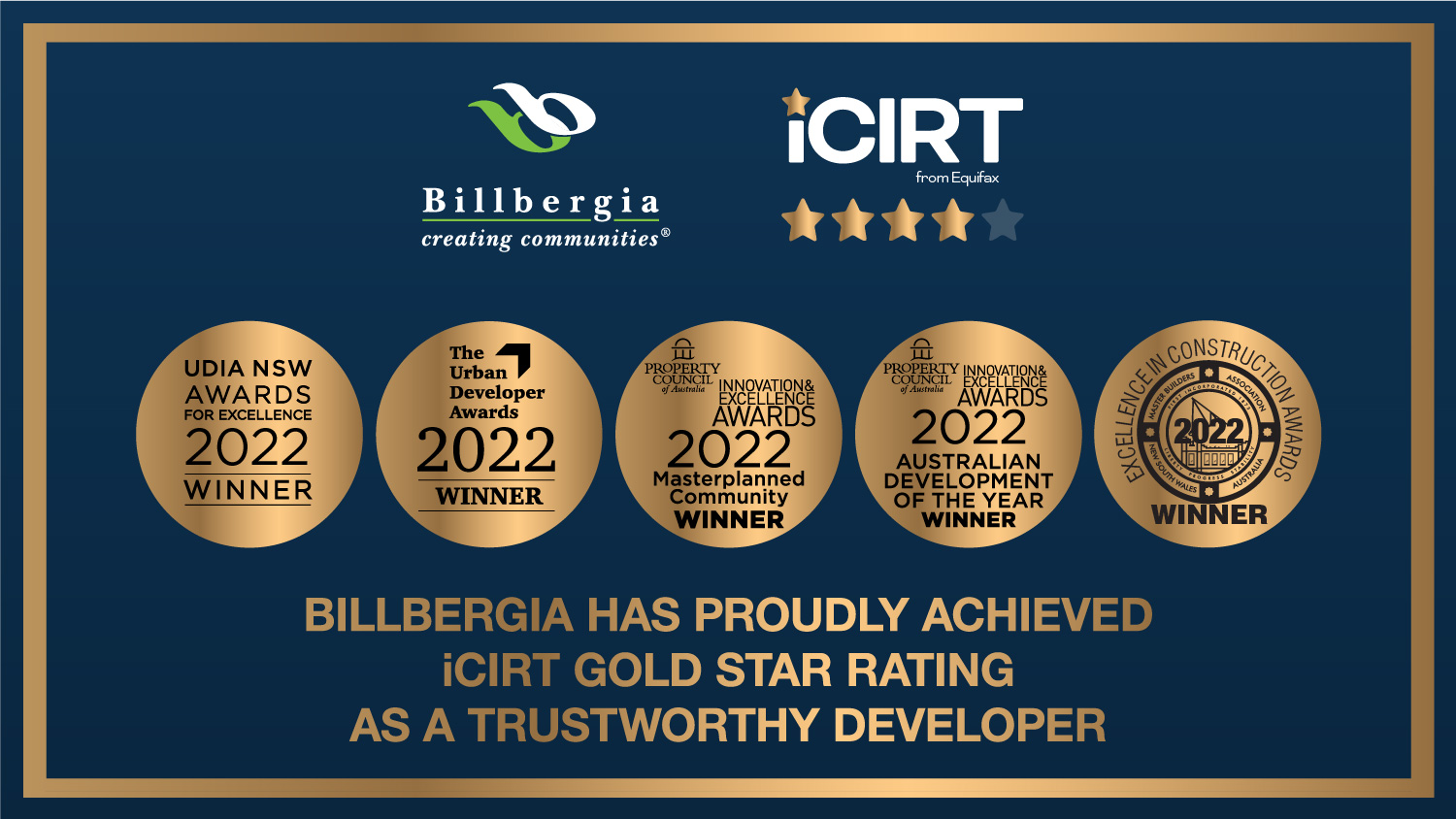 Commitment to Quality & Safety
Billbergia works with some of the best international architects and planners to ensure our developments and master-planned communities provide a vibrant quality of life. We consider the community's needs from the outset, delivering local amenities, transport connections, convenience retail with food and dining options, and pet friendly common areas with open space and active leisure opportunities.
Our projects are delivered by our in-house development and construction teams, ensuring we maintain scrupulous attention to quality in both the design and construction process.
Our commitment to quality outcomes has been favourably recognised by the NSW Government Office of Fair Trading, with Billbergia attaining a 4 Gold Star iCIRT certification from independent verifier, Equifax, and being awarded the industry best rating for 'Conduct', demonstrating integrity in our business.
Our approach embodies accountability, integrity and best-practice approach to building quality, durability and lifecycle maintenance. From inclusions such as full double glazing on external windows and doors, each project undergoes a rigorous design review process, with full-scale prototype mock-ups and testing of building facades and bathroom waterproofing, prior to construction.
Environment
Being responsible stewards of the environment is extremely important to us. We continue to evolve our sustainability approach with each community we create, working to reduce our own impact and embed design and specifications for our buildings and public spaces that will reduce lifecycle impacts from energy use, water consumption and waste.
Our team recognises the synergy between thriving communities and environmental responsibility. The environmentally sustainable design (ESD) measures we employ in masterplanning ensure people live in neighbourhoods that provide places for healthy outdoor activity, enable people to walk or cycle to local amenities and have efficient links to public transport.  People and their wellbeing are at the heart of all decisions.
Our apartments are designed to be energy-efficient and exceed the requirements of the National Construction Code in relation to insulation and passive design. This helps reduce energy-related carbon emissions and benefits the financial sustainability of households through lower utility bills. We understood this need well ahead of many of our peers – for example, we made double-glazing standard more than 25 years ago.
Billbergia continues to explore and adopt new aspects of ESD such as biophilic architecture, a design philosophy that recognises the deep love humans have for nature and the benefits that come from incorporating urban greening into buildings. We also focus on continual improvement of environmental performance across our corporate operations and construction approach, for example setting targets for construction waste reduction that are regularly reviewed to identify areas for further improvement.
Our goal is always to achieve the best result with the greatest benefit for the community now, and for generations to come.
Quality
An apartment is the single most significant purchase many people will ever make, and we believe people should feel confident that their home has been designed and constructed to the highest standards of quality and liveability.
We are proud to be iCIRT certified – endorsed by the NSW Government as a trusted developer. iCIRT provides visibility, transparency, accountability and buyer confidence. To achieve and retain this mark of trust and credibility, we work closely with our Architects and designers, construction team, subtrades and supply chain to ensure every element achieves compliance with all relevant standards including the National Construction Code.
But we don't stop there. We go above minimum compliance to ensure our properties retain their value and market appeal for the long term – because we are committed to the future of the communities we create and the wellbeing of those who reside there.
Design features that are standard in Billbergia apartments include:
Ingenious use of space with floor plans that create functional, well-planned areas, a sense of spaciousness and scale;
Attention to detailing including waterproofing and sound management;
Premium quality appointments, with kitchens always featuring premium European appliances;
Double glazed windows and state-of-the-art insulation that together conserve energy, improve indoor comfort all year round and minimise noise;
Reverse cycle air conditioning for affordable and effective heating and cooling when required;
Innovative winter-gardens: an inviting, private space to enjoy the outdoor environment and local views in all weather conditions.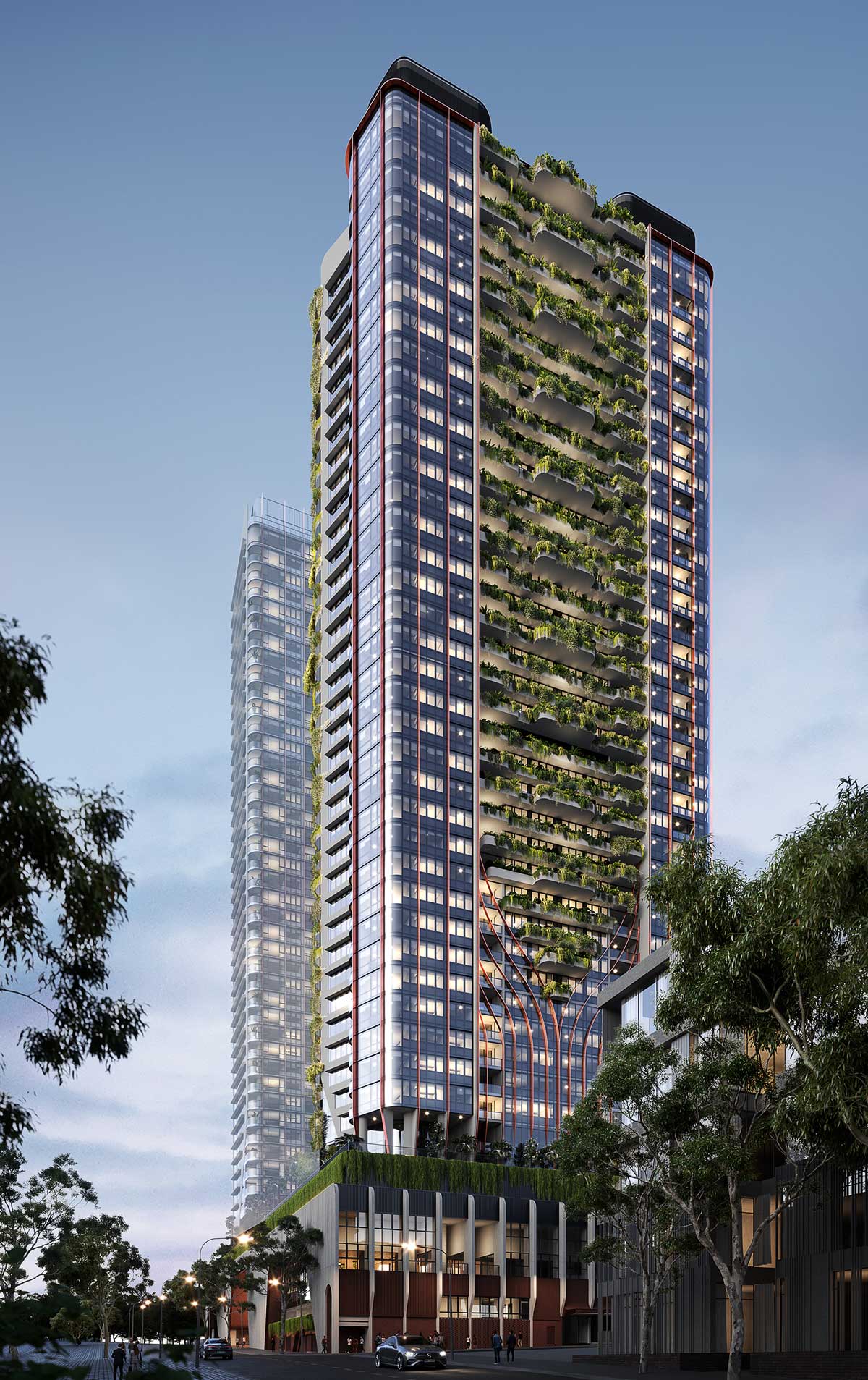 EMS
Billbergia operates according to a third-party certified Environmental Management System (EMS) – and has done so since 1998. Our EMS also meets the requirements of the NSW Government Environmental Management Guidelines for AS/NZS ISO 14001:2015 – Environmental Management Systems – Requirements and Guidance for Use.
Our EMS can be tailored to suit individual project or client needs and is never 'set and forget'. DLIQ Certification Services undertake half yearly audits of our Environmental Management System to make sure that compliance with AS/NZS ISO 14001:2015 is upheld.
Billbergia is committed to providing a work environment that is safe for people to work in and visit.
Health, Safety and the Environment are the integral components of all our activities.
We maintain the following certifications:
AS/NZS ISO 45001:2018 – Occupational Health and Safety Management Systems – Requirements and Guidance for Use
AS/NZS ISO 14001:2015 – Environmental Management Systems – Requirements and Guidance for Use
AS/NZS ISO 9001:2015 – Quality Management Systems – Requirements
We were recently awarded a 4 gold star iCIRT rating, signifying our capability and willingness to honour commitments related to the construction of trustworthy residential buildings.