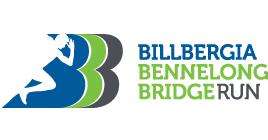 Media Release
10 am Sunday 12 February 2017
Big turn out for inaugural Billbergia Bennelong Bridge Run
More than 1,200 Sydneysiders braved the heat on Sunday, for Sydney's latest running
event across the recently completed Bennelong Bridge.
The inaugural Billbergia Bennelong Bridge Run covered a 10km course taking in the scenic
surrounds of Rhodes, Wentworth Point, Parramatta River and Sydney Olympic Park. It was
followed by a shorter 2km family fun run between Rhodes and Wentworth Point.
Winner of the men's 10km event, Dave Criniti, crossed line in 34 minutes 42 seconds, with
Women's 10km winner Louise Noble, crossing in a time of 38 minutes and 5 seconds.
Dave Criniti said he was stoked to win the inaugural event.
"Today's run wasn't about the times; it was just great to be part of the first ever Billbergia
Bennelong Bridge Run and to raise funds for the charity – Run Beyond Project.
"I'm particularly proud of High School student Eh Kwa Lar, who participated as part of the
Run Beyond Project. The program takes school students who are facing adversity and
promotes important life-skills, such as goal-setting, commitment and resilience through
running and helps them prepare to take on the world".
The Billbergia Bennelong Bridge Run was the brainchild of two passionate local running
enthusiasts, Hamish Campbell and Glen Lebeau who teamed up with major sponsor
Billbergia to stage the event, in celebration of the recently completed Bennelong Bridge.
Hamish Campbell said both the 10km and 2km events were organised in response to a huge
amount of local community interest and had been designed to attract people of all ages.
"The support has been fantastic and I think we'll see the run become an annual event on
Sydney's running calendar".
Bennelong Bridge Development Director, Rick Graf said Billbergia was proud to be the
major sponsor of the event. "We are delighted to support the communities of both Rhodes
and Wentworth Point and get behind a fun event that takes advantage of the new access
the Bridge has created.
Billbergia has been the driving force in funding and building the $63 million Bennelong
Bridge that was delivered at no cost to the NSW Government in May 2016.
Not only is the bridge Sydney's newest piece of privately funded public transport
infrastructure, but it also brings two of Sydney's fastest growing communities together.
Rick Graf said, "Billbergia's philosophy of creating communities is about more than just
delivering infrastructure, it's also about supporting local events and activities that bring the
community together."
** end**
Media contact: Rick Graf 0418 727 282